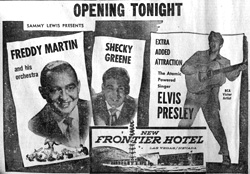 In 1956, Elvis Presley was the "extra added attraction" at the New Frontier. Freddy Martin and Shecky Greene were the headline acts. Turns out Las Vegas audiences were not too impressed with the "atomic powered singer."
Elvis Presley, New Singing Find, Booked Into New Frontier
Las Vegas Sun
Staff Report
April 21, 1956

Elvis Presley, unanimously acclaimed by critics as the most important singing find since Johnnie Ray, will open in the New Frontier Hotels' Venus Room Monday, April 23, as a special added attraction to the Freddy Martin show.
The handsome 21-year-old rock 'n' roller's appearance in the latest Sammy Lewis production is considered to be the Las Vegas entertainment scoop of the year.
Presley's sensational rise to fame is largely based on his recent recording of "Heartbreak Hotel" which sold 100,000 copies the first week it was out and at present is nearing the 1,000,000 mark.
Two years ago the young giant (he stands 6 feet 2 inches tall) was driving a truck in Memphis for $45 a week. Yet in West Coast appearances last week his unusual singing style attracted turnaway audiences of 5,000 and special police squads were needed to handle the admiring crowds who came to see America's newest idol.
Adding to Presley's fame and fortune is a motion picture contract which he signed with Paramount Studios in Hollywood just this week.
The young vocalist will be featured in one of the most lavish productions ever presented in the Venus Room, Lewis stated. Freddy Martin and his band, comic Shecky Greene, the Venus Starlets and a cast of more than 60 performers will make up the entertainment package.
Column: Just About Everything Under The Sun
Las Vegas Sun
Bud Lilly (New Frontier Hotel publicity director)
April 26, 1956

Thanks for your note requesting more info on Elvis Presley. You should know nothing makes a publicity man happier than furnishing background on one of his favorite subjects.
And Elvis certainly is one of my favorite subjects. Here is a nonchalant phenomenon whom, as yet, no one has accurately described. Here is a young man who has an inherent ability to arouse mass hysteria (or should I say ecstasy?) wherever he goes, yet is unassuming and completely untouched by the fabulous success he has achieved almost overnight.
Wherever Elvis has appeared in the recent weeks since he "hit" he has left behind him tears, screams, wild applause and mangled emotions. Yet it must be a sweet agony he creates because his avid fans already have elevated him to a plane reached only by a few singers of our time.
Far be it for me to analyze this handsome, 21-year-old lad whose rock 'n' roll rhythms brings forth squeals and cries not heard since way back when Frank Sinatra first came into his own. It has been suggested to me that Elvis Presley is a combination of Johnnie Ray and Billy Daniels - that he displays the magnetism of Sinatra and Como- that he possesses the intangible attributes of almost any two or three popular male singers you might care to group. I'll go so far as to say I don't agree with this. In my opinion, this boy is one to himself - doing what comes naturally.
The most-used phrase coined by writers across the country to describe Presley's singing is "a peculiar brand of western bop." Yet that "peculiar brand of western bop" alone could inflame followers to mob a theater for just a look at their idol? This is not an unusual incident when Elvis makes a personal appearance. City officials from coast to coast already have learned to place extra police on duty to control overflow crowds wherever he appears.
Presley is billed as "America's only atomic powered singer." Maybe, this explains everything you and I are witnessing another amazing development in this amazing age of the atom. It makes as much sense as another rationalization of an "irrational situation."
Briefly he was born in Tupelo, Mississippi, on January 8, 1935. All his training in show business has been through self-instruction. Two years ago he was a truck driver. Last December he was signed to an RCA Victor recording contract and just two weeks ago signed to a seven-year contract with Paramount Pictures In Hollywood. Sammy Lewis, our producer here at the New Frontier Hotel says he feels this is only the beginning! And THERE you are.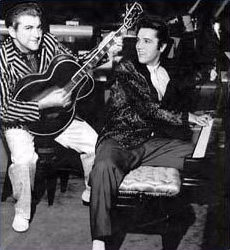 Hoping to stir the interest of Vegas showgoers in April of 1956, Elvis Presley and Liberace were brought together in a comical session of publicity photos where the duo switched instruments and wardrobe.
Review of Elvis' show
By Bill Willard
Las Vegas SUN
April 28, 1956
Accent is on pitch and pull for this batch of acts comprising the current Venus Room Bill. The powers of the New Frontier are pitching the local premiere of Elvis Presley, but the pull will be in Freddy Martin's smooth music making and word-of-mouth cheering for Shecky Greene's unbridled comedy.......
Elvis Presley, arriving here on the wave of tremendous publicity, fails to hit the promised mark in a desert isle surfeited with rock and rollers who play in shifts atop every cocktail lounge on the Strip. The brash, loud braying of his rhythm and blues catalog (and mind you, they are big hits everywhere it seems) which albeit rocketed him to the big time, is overbearing to a captive audience. In a lounge, one can up and go -- fast. But in a dining room, the table sitter must stay, look and listen the thing out. Which is perhaps why Presley received applause on his opening show edged with polite inference only. For the teen-agers, the long, tall Memphis lad is a whiz; for the average Vegas spender or showgoer, a bore. His musical sound with a combo of three is uncouth, matching to a great extent the lyric content of his nonsensical songs.
Vegas Daze and Nights
Ralph Pearl
Las Vegas SUN
May 1, 1956
The Shake and Shiver Kid: Now that I have finally found out what an Elvis Presley really is, I wonder if I will ever be happy again. You see, a Elvis Presley is an intense young singer who opened at the New Frontier a week ago with a very nervous guitar. And though the lad probably has yet to experience his first shave, he and his trio of instrumentalists have already sold a million records of their first recording. Presley sings and I try to recall Burl Ives, Harry Belafonte and Johny Ray. Mind you now, I'm not saying he compares with either of the illustrious gentlemen named. However, he doesn't sound too unlike those lads.
So there stands Elvis Presley, who probably has yet to blow out his 21st birthday candles, drink his first beer or kiss his first girl, the absolute rage of the juke box business and several million youngsters who compare him to the great in this unique field of hysterical rock 'n' roll rhythm. And as he stands up there clutching guitar, he shakes and shivers like he is suffering from itchy underwear and hot shoes. There is no doubt, I say to myself, because my wife seems to be pretty much interested in Presley's gymnastics on stage, this is the beginning of another craze. And a cold sweat pops out on my forehead as I full realize that my missus is now on the brink of a shopping spree for Presley records.
Seriously, however, I'd like to see this Presley in a hotel lounge. He would probably be the nearest threat to Louis Prima and his group the two years that Luigi has dominated Vegas lounge entertainment. However, I don't imagine Presley's board of strategy is listening to the weak chirpings of lounge talent buyers. Especially when millions of youngsters, who buy Presley's records, are forming long lines outside of the music shops of America and Canada. Yes siree, the lad with the sleepy eyes and angry fingers on his electric guitar may crave a steady diet of fried pork chops, but the youngsters also crave a steady diet of Elvis Presley.
And right now the lad is hotter than a cauldron of boiling oil. What is his favorite tune, you ask? That is easy. It's the sound of the hard and shiny cash registers which have his name on them.
A cat talks back
Letter to the editor
Las Vegas SUN
May 12, 1956
Mostly about Mr. Elvis Presley, Esq.
I will try to bravely carry on after reading the report of the SUN's police reporter concerning Mr. Elvis Presley now holding forth at the Venus Room of the Hotel New Frontier. I'm not after the teen-age vote or to sell Portia's pound of flesh. I come not to bury Caesar, but to praise him. It is a weakness of the mind to preconceive a judgment of your thought before the act is done. And so McDuff, lay on.
Despite the acid hemlock broth stirred by the Sun's copy boy methinks Mr. Presley will survive and live to sing some more. Not that for many moons to come his name will be well known about the countryside.
Perhaps this cat should have studied grand opera, the fiddle or just be satisfied herding a truck. I don't join that school of thought. He's happy and he's making lots of other people happy doing just what he is doing naturally. You see, he's a natural. Any dope knows what a natural is.
This cat Presley is neat, well gassed and has the heart. His vocal is real and he has yet to go for an open field. He is hep to the motion of sound with a retort that is tremendous. These squares who like to detract their imagined misvalues can only size a note creeping upstairs after dark. This cat can throw 'em downstairs or even out the window. He has it.........
Presley has a depth of tone that can sink deeper than a well. He can wilt into a whisper faster than a gossipmonger can throw down a free drink. He is classier than a new sock and a skinner on the strings. He really makes them cry. He's a smooth cast, cool and crazy with new stuff. His sound is dreamy and unique, loaded with mystery.
So settle down dad. Take your cow straight. Wipe the blood out of your eye. I still got your coat. Music shines in anything that sounds.
Youth is an exuberant stage of life with the top down. Presley's voice is that of American youth looking at the moon and wondering how long it will take to get there. He is not a Rock 'n' Roller nor is he a cowboy singer. He is something new coming over the horizon all by himself and he deserves his ever-growing audience. Nobody should miss him. Parents would do well to take their children to hear him. It would be a good way to get to know and understand your own kids.
Yep, this boy's sails are set and he's got wind. Good luck boy and the best of everything. I hope they hold you over! After all ten million cats can't be wrong.
Ed Jameson
805 Grant
Las Vegas
<< Back to the timeline >>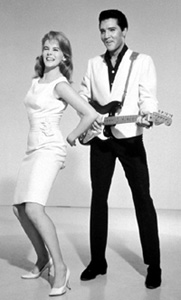 Elvis Presley and co-star Ann-Margret in a promotional photo from "Viva Las Vegas." Part of the movie was filmed on location in Las Vegas.
Las Vegas the scene of new Elvis film
By Gloria Reible
Las Vegas Sun
July 24, 1963
"The Lady Loves Me" may be the new title of "Viva Las Vegas," MGM movie currently being filmed here.
Reason for the change, a studio spokesman on the set attests, is because of a budding romance visible even to casual onlookers, between the stars of the flicker, Elvis and Ann-Margret.
The boy who owns the only Rolls-Royce in the world with Tennessee license plates and the girl who billed herself as the "Female Elvis Presley" at the start of her career, make a torrid combination, on or off the screen.
And the 109 degree temperature on the set was upped several degrees when the stars did a scene on the parking lot of the Sahara Hotel.
Until one has visited an "on location filming," it is difficult to comprehend how little glamour it really entails. Rather, the one word which aptly describes the entire process is "work."
For the more than 200 actors, cameramen, stand-ins, make-up artists, technicians and other specialists necessary for making the movie, the workday begins at 6 a.m.
Work, work, work.
What's more, it doesn't end until 12 hours later. Of the film shot in the day, approximately six minutes is usable. Therefore, it is understandable that "Viva Las Vegas" will cost in excess of $3,000,000.
Each day's filming is viewed the following day by Director George Sidney and Producer Jack Cummings. Then, if any scenes need a re-take, it can be done immediately in order to prevent a costly return trip to Las Vegas after the group has returned to Hollywood.
Premier in LV

Sidney hopes to finish shooting here by the weekend but the movie will not be wrapped up until late September. Cummings told the SUN that there is an excellent possibility that the pictures will be premiered here at Easter-time.
For the first time in his amazing career, Elvis has a name for his romantic lead and one who can share the vocal assignment.
Although the emphasis is primarily on the story, both he and Ann-Margret have production numbers, as well as duets.
The story line is relatively simple - the struggle by a young racing enthusiast to raise money to get his own car. Complicating matters is his romance with a shapely swimming instructor who doesn't cotton to the idea of a husband who spends Memorial Days whizzing around the Indianapolis Speedway.
There is a personal and professional rivalry, too, between Elvis and the leading European sports car racer, played by Cesare Danova.
Ah, there is a man! Cesare's latest film is "Cleopatra" in which he play's Liz' lover Apollodorus. After seeing him, one wonders how Burton stood a chance with Miss Taylor.
Language Expert

Master of five languages, the handsome Italian made his first film in his native Rome when he was 20. The six-foot-four former medical student with curly black hair, melodious voice and flashing smile, also recently starred in "Gidget Goes to Rome."
"Viva Las Vegas" is unique in that the spotlight is on "the other side" of Las Vegas rather than its casinos. The city is shown for the first time in a motion picture as a family vacation center, which it is to thousands of people, instead of just an oasis for quenching the gambling thirst.
The climax of the film will be a roaring, screeching sports car race through Las Vegas streets, across Boulder Dam and through the blazing desert.
At least six new numbers will be introduced in the picture, all of which Elvis will record. Interestingly enough, the 29-year-old often imitated bachelor has had 31 singles pass the million mark in sales, while Frank Sinatra has had none.
Although spectators are not allowed directly on the set, one can easily stand within seeing range. Filming will continue today, tomorrow and Friday at Lake Mead Marina.
Vegas Daze and Nights
Ralph Pearl
July 15, 1963
The press agents for the flicker, "Viva Las Vegas," are busy planting phony items in the columns about a feud between stars. Ann-Margret and Elvis Presley, of that movie because "he won't date her." That'll be the day. Ann has more dates that she knows what to do with...
<< Back to the timeline >>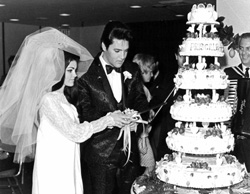 Sun file photo
Elvis Presley with new bride Priscilla Anne Beaulieu Presley shortly after their wedding ceremony in Las Vegas at the Aladdin Hotel.
Presley, Brunette Beauty in Surprise Vegas Wedding
By Jeff Rice
Las Vegas SUN
May 2, 1967
Elvis Presley, 32, reportedly the highest salaried entertainer in the world, married Priscilla Anne Beaulieu, 21, Monday morning at Milton Prell's Aladdin Hotel.
It was the first marriage for both.
The couple was wed in a quiet ceremony in Prell's suite at the Aladdin at 9 a.m. The new Mrs. Presley is the daughter of an Air Force Col. and Mrs. Joseph Beaulieu of San Francisco.
The Memphis troubadour and his gray-eyed brunette bride-to-be landed at McCarran Airport early Monday morning, and drove with friends to county courthouse where they obtained their marriage license at 3:30 a.m.
Following the ceremony, attended by a few relatives and close friends, an elaborate banquet was held just below the hotel's casino. An estimated 100 guests dined on ham, eggs, Southern fried chicken, Oysters Rockefeller, roast suckling pig, poached and candied salmon, lobster, Eggs Minnette, and champagne. Among the Las Vegas notables attending the reception-banquet were Mr. and Mrs. Milton Prell, SUN Publisher and Mrs. Hank Greenspun and State Supreme Court Justice David Zenoff, who performed the eight-minute ceremony.
The bride and groom cut a six-tiered wedding cake. Presley wore a black brocade silk tuxedo and Western boots, while Priscilla wore a floor-length wedding gown of her own design: white silk chiffon, with beaded yoke, trimmed in seed pearls and topped with a three-foot tulle veil secured by a rhinestone crown.
At a short press conference following the banquet, Presley said he had met his bride six years ago in Germany when he was in the Army. The bride's mother, Mrs. Anne Beaulieu, said, "They became very close friends at the time, but I don't think any of us had thought they'd get married."
Priscilla stayed with Presley's father and stepmother at the family mansion, "Graceland," when she graduated From a Memphis high school in 1963.
During the press conference, the bride's parents, her brother Don, 17, and her 13-year-old sister Michelle, sat with Elvis' parents, Mr. and Mrs. Vernon Presley.
Also on hand were Presley's close friends and business associates, Jay Esposito and Marty Lacker.
When a newsman commented, "Snap him (Elvis) smiling. He doesn't smile much lately," Presley joked, "How can you look happy when you're scared?" The Presley smile was very much in evidence when he laughed and yelled, "Daddy, help!"
Presley's father, seated across the crowded room, said: "Can't do it, son. You're on your own."
Comedian Redd Foxx, also on hand for the festivities, said, "It's the best thing that happened...to me."
Presley said he and his bride would "most likely live in Memphis," adding they intended to honeymoon in the United States and had "given no thought to leaving the country."
"Colonel Tom Parker (Presley's manager), and Prell have been friends for about 20 years," said a Aladdin spokesman. "They're neighbors in Palm Springs." Presley often stayed at the Sahara Hotel when Prell was its owner.
The couple left for McCarrran Airport immediately after the press conference.
<< Back to the timeline >>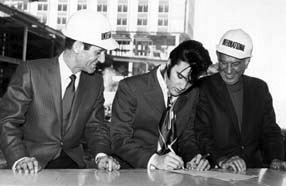 Sun file photo
Elvis Presley signs a contract to perform at the soon to be completed International Hotel. His first performance was July 31, 1969.
Joe Delaney
Las Vegas Sun
Aug. 1, 1969
Elvis Presley made his first public stage appearance anywhere in eight years last night when he opened a four week engagement at the International Hotel...It is 13 years since Elvis worked LV. His previous and only appearance in our town was at the old Frontier Hotel on a bill head-lined by Shecky Greene...Shecky opened Wednesday in the Riveria's Starlite Theatre...On the bill with Elvis at Elvis' insistence is hot comic Sammy Shore...Shecky and Sammy once worked as a comedy team. Shecky subbed for Sammy at a downstairs joint across from the Roosevelt Hotel in New Orleans in the early '50s. Sheck went in for two weeks and stayed two years. Two years ago, Greene returned the favor by putting Shore into the Riviera Versaille Room. Sammy's career has been "straight up" ever since, capped by his recent Flamingo stint with Tom Jones. Small world, isn't it?
We predict that Elvis will have his more enthusiastic followers walking around asking, "Tom Who?" and "Englebert Who?" when comparison are attempted. Streisand's record at the International will be broken...Elvis represents the finest effort by that master promoter, Col. Tom Parker. Of course, the "product" was there. If not, it would have been just one around. Elvis is very much for real. Elvis is here to stay. So are Shecky and Sammy...
Ralph Pearl
Las Vegas Sun
Aug. 2, 1969
It turned out to be an evening of extreme worship for a lad who was making a return to live audience after a nine year lapse devoted exclusively to movie making and turning out hit records. Opening at the International before a select throng of invitees from the press, Hollywood and local VIPs, Elvis Presley got a constant, roaring approval from his fans who all but threw themselves into the aisles and out of the balcony as the Pelvis sang his many rock and roll hits while fiercely, almost savagely turning himself outside in.
Possibly being the lone dissenter who couldn't get himself assassinated by one or more of the Presley fan because of our critical attitude, we found the glamourous rock and roll movie hero really cashing in on his reputation and not truly earning the enormous standing ovation at the close of his one hour song session. Except for his interesting version of "Memories" and "Ghetto," his latest recording, there was a pounding, ear aching sameness to many of Presley's songs. As far as the throng was concerned, however, Elvis could do no harm that night.
There was a noticeable lack of production or showcasing of his many songs. The lad just got out there, wrapped his lean torso around a guitar and hammered out song after song, stopping from time to time to readjust his anatomy and get his second wind. Presley's last cafe stand in Vegas was in '55, and it must have had a great affect on him because he opened his show by welcoming the mob "to the New Frontier."
Emilio, maitre de at the International Hotel, has just discovered the number one Elvis Presley fan. He got a letter from a Miss Marie Chantal Riviere who lives in Paris. Enclosed was a 100 franc note asking Emilio to expect her to arrive Aug. 11 and to give her a midnight show reservation for 10 nights in a row. She'll be returning to gay Paris Aug. 21...
Joe Delaney
Las Vegas Sun
Aug. 4, 1969
Elvis Presley's preview opening was as warm for us as Barbara's was cold...We were there at the Frontier in '56 when Elvis appeared with Shecky Greene and the Freddy Martin orchestra. Except for the Sweet Inspirations, the Imperials and the fine Bobby Morris house orchestra, Elvis' first 20 minutes differed little from his '56 Frontier offering. Based on audience reaction last Thursday, it didn't have to...Some people felt Elvis was putting them on. We don't think so...Perhaps Col. Tom will do something in the way of staging and production when Elvis returns to the International. For now it is fine just as it is...One small suggestion: Somewhere during the song log, we would have appreciated Elvis doing a hymn. Backed by the boy and girl quartets, it would have been a show stopper. Let him do it, Col. Few do it better.
<< Back to the timeline >>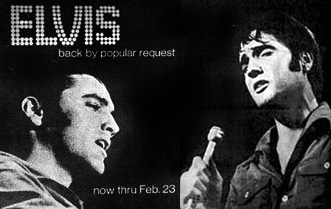 Las Vegas Sun
Advertisements for Elvis Presley's show at the International Hotel.
A Vegas smash hit
Columnist Joe Delaney
Las Vegas Sun
Feb. 2, 1970
Elvis is running well ahead of his own previous record-breaking statistics at the International...What impresses us is the great aura and attitude that permeates the entire presentation this time in... Sheer magic throughout...Note particularly the big score made with the audience by comedian Sammy Shore who came in with 95 percent new material, although there was nothing wrong with his previous comedic content nor has he worked here that often...Good luck on getting in...Nearly two thousand "didn't" last Friday midnight when at least that many "took their chances" and didn't get in...Elvis and the Colonel are ensconced in the Imperial suite which takes up half of the International's 30th floor...The Crown Room takes up the other half so if you want to get "next" to Elvis, you can do so and dance stark naked to the defenders at the same time..."Tickle me" with Elvis is the Bonanza Opera House flick tonight.
Columnist Joe Delaney
Las Vegas Sun
Sept. 6, 1970
The CBS Ed Sullivan taping of the 1st Annual American Guild of Variety Artists's award will be "invitation only," starting at 10 p.m. tomorrow night in Caesars' Circus Maximus...Ch. 8 will carry it here on Sept. 20...Question: Does Tom Jones rate over Elvis Presley as "Best Male Musical Star?"...No Way!...Unless, of course, Elvis wins "Entertainer of the Year" which will not be known until Monday night...Second question: If Elvis does win, what about Frank Sinatra, Sr.?
Columnist Ralph Pearl
Las Vegas Sun
Sept. 7, 1970
To Err is Human Dept.: It happened several nights ago to Elvis Presley at the International during one of his shows. The lad, who has set all kinds of fabulous attendance records, rarely drinks. But this night he did and was pleasingly inebriated when he worked the midnight show. Suddenly a heckler began annoying Elvis, who took it for about five minutes until he snapped at the drunk, "Shut up you Mother ------."
<< Back to the timeline >>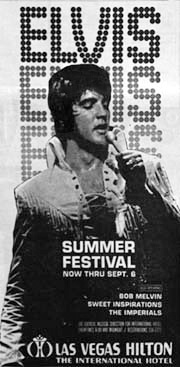 Las Vegas Sun
Advertisement for Elvis Presley's show at the International Hotel.
Record Audiences see the King
Presley Returns To Hilton Today
Las Vegas Sun
Aug. 9, 1971
Elvis Presley, recently named "Entertainer of the Decade" by a major publication and whose specialty seems to be breaking all-time attendance records wherever he appears, returns tonight to the scene of his original stage triumphs, the Las Vegas Hilton, to open another four week run.
Elvis, who rates as Las Vegas' all-time top entertainment draw, will be making his fifth appearance at the Las Vegas Hilton. This engagement follows closely the release of his latest RCA album "Love Letters From Elvis," and coincides with the August release of another, "A Touch of Gold, Vol. 11."
Billed as the "Elvis Summer Festival," the return of Presley promises again to spark the familiar "Elvis fever" which permeates not only the hotel, but the entire Southern Nevada resort city each time he performs.
And the continued success of Elvis' recent MGM motion picture, a documentary filmed at the Hilton last August entitled "Elvis - That's the Way it is," has only served to fan the fever.
To top it off, his newest RCA single release, "I'm leavin'," has been climbing steadily on the charts and appears well on its way to Gold Record status.
Elvis once more will be backed vocally by The Imperials and The Sweet Inspirations, and five of his personal musicians will augment the 30-member Las Vegas Hilton Orchestra under the baton of Joe Guercio. Comedy star on the bill will be Bob Melvin. Showtimes will be 8 p.m. and midnight.
Columnist Joe Delaney
Las Vegas Sun
Aug. 12, 1971
Elvis is back and the Hilton International is truly a Summer Festival...This is a good-humored, un-bugged Elvis, very gracious and giving of himself...In addition to being the number one phonograph record salesman of all-time and the biggest draw, numerically, in LV history; Mr. Presley is one of the great put-ons of all time...The capacity-plus house, which included a "Who's Who" turnout of his peers, the press and all of the adoring public the law would allow thoroughly enjoyed the young man from Memphis..So did we...Col. Tom's carnival atmosphere is in keeping with his attraction and line-up awaiting souvenir kits after the show included just about everyone fortunate to attend Monday's performance...The Sweet Inspirations opened; mannered and disciplined comedic commentator Bob Melvin had almost all new material, all of it funny and some of it so good you will be hearing the lines from other mouths in other places...Elvis worked so easily and did his own hour in what seemed no more than 18 minutes...Elvis's musical regulars, plus Joe Guercio and his scrumdidilyumptious orchestra and the Imperials are up to the stars demand...Need more be said?...So go; enjoy!
Sitting there, watching Elvis, so many thoughts crossed our mind: Variety staffer Leo Zabelin, telling us in Chicago, "Go see this kid doing the Louisiana Hayride on KWKH in Shreveport, Louisiana; I don't know if he will sell records but he sure tears up an audience."...The late Manie Sachs, one of the record business greats, telling us in New York, in Manie's RCA offices, after we had been to Shreveport and to Memphis, "Two thousand dollars up front and not an advance against record royalties for a country singer, I don't think so."...A year or so later, after Col. Parker and RCA made the historical Presley deal, we asked Leo Zabelin in Chicago why he had to be a year early in making the suggestion?
Columnist Joe Delaney
Las Vegas Sun
Aug. 15, 1971
What a week this last one was!...We did the best we could but it must have been a record week for openings...Presley's first night, Monday at the Hilton- International was reviewed most favorably in Thursday's column...The excitement attendant to that very first big opening night two years ago was missing of course, but, otherwise, this time around offers the best "Live" Elvis we have seen and we have caught him at least twice each visit...
Columnist Joe Delaney
Las Vegas Sun
Aug. 19, 1971
Business-wise, most main showrooms are doing extremely well as we head into the third weekend of August...Presley is the champ of course...
Elvis has been at the Fire Dept.'s limit two shows a night with a capacity that is 800-1,000 persons per show greater than Caesars' Circus Maximus which is in turn much larger than the D.I., Sahara or Stardust main show room.
Columnist Joe Delaney
Las Vegas Sun
Aug. 26, 1971
Most entertainers' fees are too high in Las Vegas...Perhaps?...But as Tevye might say in "Fiddler," "on the other hand," what would you pay an entertainer who could draw 25,000 people per seven day week, people who will spend an average of 20 dollars per person, for a minimum gross of approximately one half million dollars in the showroom alone...Before answering our question, take into consideration the entertainer will do this four weeks at a time, three times a year, and, at the same time, fill your 1,500 room hotel, its casino theater, restaurants and coffee shop and furnish you with a concession at your front door that will make you more money than any other concession owned by anyone else during a comparable period...By this time only the most unknowing would fail to identify the entertainer as Elvis Presley and the hotel as the Hilton-International...Neither the Shoofeys nor the Parkers need to be ashamed of the business acumen of either Alex or Col. Tom so it's a safe guess that Elvis is getting top dollar and well worth every cent of it... This example also applies, with modification, to the handful of true box-office heavyweights.
...Where is that fat that can be trimmed in order to reduce main showroom and casino theater expenditures and thereby bring about lower prices to the showgoers?
Two areas are obvious, or should be, even to the newly arrived computerized geniuses: The first area of reducible "fat" covers all the other mainroom and casino theater acts who are not true proven box-office heavyweights ...If Elvis is worth $100,000 a week (He's worth much more than that to the International) this doesn't mean another artist is worth $50,000 a week...Make each show stand on its own...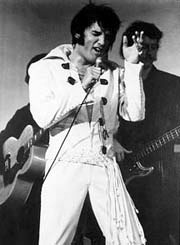 Las Vegas Sun
Elvis Presley performs at the International Hotel.
Elvis Presley wins Bing Crosby Award
Las Vegas Sun
Aug. 30, 1971
Elvis Presley has joined Frank Sinatra, Duke Ellington, Ella Fitzgerald and Irving Berlin as a recipient of the Bing Crosby Award, an honor granted only five times by the National Academy of Recording Arts & Sciences. The large ebony and gold plaque was given to Presley by Chris Crosby, representing Bing Crosby, and by William Cole, a national officer of the record academy.
The brief ceremony was held in Presley's dressing room, between shows at the Las Vegas Hilton Hotel, where he is currently appearing through Labor Day. The citation read: "To Elvis Presley in recognition of your artistic creativity and your influence in the field of recorded music upon a generation of performers and listeners whose lives and musical horizons have been enriched and expanded by your unique contributions." Presley has recorded for RCA Records since 1955.
Originally known as the Golden Achievement Award, and renamed in honor of its first recipient, Bing Crosby, the award has been granted to those who have made outstanding creative and artistic contributions of long-lasting duration in the field of phonograph recordings.
The recipient is determined by vote of the National Board of Trustees of NARAS, the record academy. The organization is best known for its Grammy Awards which are given annually for performing and technical achievements in current recordings.
Presley accepted the plaque before a few intimate friends and his manager Colonel Tom Parker. Also in a attendance at the ceremony was David Leanse, the record academy's newly-appointed National Administrator.
Columnist Joe Delaney
Las Vegas Sun
Sept. 2, 1971
The same "smarts" who said "Fiddler On The Roof" wouldn't do business at the Union Plaza, and were wrong, as usual, are now offering their unsolicited opinions that "Jonathan Winters can't follow Elvis Presley!"...And who, may we ask, could follow Elvis Presley in the Hilton International's main showroom?...
Columnist Joe Delaney
Las Vegas Sun
Sept. 5, 1971
Speaking of Elvis, we started getting those 'Elvis is goofing around again, on stage,' reports... Wednesday night he behaved poorly, according to a number of responsible sources...No one, not even Elvis, is entitled to do this to a LV audience, not a those prices.
<< Back to the timeline >>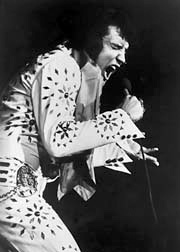 Las Vegas Sun
Elvis Presley performs at the International Hotel.
Columnist Joe Delaney
Las Vegas Sun
Aug. 17, 1975
Elvis takes over his Hilton Main Showroom from Charlie Rich and Barbi Benton Monday night...Elvis and the Colonel are one of the truly great relationships in the entertainment business..Louis Armstrong and Joe Glasser had an association that lasted nearly 50 years; there were no contracts or papers between them, just love and affection and total trust...We would love to write the book on that one.
For better than two decades now, Elvis and Col. Tom have made all the right moves, realizing maximum returns from each of the entertainment media...No one has or, in the foreseeable future, will come close to the Presley statistics in Las Vegas, on tour, on recordings, and in the area of total gross earnings....They may have had some good bounces of the ball but they have also guessed right, all of the time.
We trust Elvis is well; the weight problem is under control; that he has the greatest engagement ever at the Hilton....
Presley cancels Vegas stint; Health is the cause
Las Vegas Sun
Aug. 22, 1975
Memphis, Tenn. - (UPI) Singer Elvis Presley, who reportedly has been on a series of crash diets to shed excess pounds, canceled his latest Las Vegas engagement because of fatigue and flew home to Memphis yesterday for hospitalization.
The 40-year-old Presley opened at the Las Vegas Hilton Monday night and was scheduled to perform through Labor Day. But, at the suggestion of doctors, he canceled the engagement after Wednesday night"s performances and flew to Memphis. It marked the fifth time since 1973 that he has been hospitalized.
Elvis appeared to tire easily during Wednesday night's appearances and frequently sat down while other entertainers continued to perform. A hotel publicist said there was some discussion of whether to present the last show.
Col. Tom Parker, the manager who has guided Presley's career since 1955, said Elvis was asked by his physicians, Dr. Elias Ghanmen of Las Vegas and Dr. George Nichopoulos of Memphis, to cancel the remainder of the engagement.
"This decision was prompted by a fatigue state which developed in recent weeks," a statement released by Parker's office said. "Mr. Presley is to be hospitalized in Memphis for further tests and rest."
"His physicians do not believe there is any reason for alarm," the statement said.
Presley has had a problem with his weight for some time, according to close associates, and has been on a number of crash diets. He spent a month in seclusion at his Graceland Mansion here early this year, reportedly refusing to see anyone until he lost weight.
Nichopoulus, Presley's personal physician who was in Las Vegas for the opening, flew back to Tennessee with the entertainer. He confirmed that Presley was entering Baptist Hospital for tests.
Maurice Elliot, an assistant administrator at the hospital, said Presley would be assigned the same suite of rooms on the top floor that he has occupied in the past.
Elvis: "I'm fine, How y'all?"
Las Vegas Sun
Aug. 23, 1975
Memphis, Tenn. (UPI) - Elvis Presley, whose doctors say "doesn't have any serious or life-threatening illness," emerged briefly from his 18th floor Baptist Hospital suite yesterday with a blonde on his arm, looking bleary eyed, disheveled and overweight.
Accompanied by a beautiful blonde, the 40-year-old "king" of rock and roll - who checked in before dawn yesterday for tests and rest - strolled cross the hall to a room where his flowers and mail are screened and kept.
His appearance in a natty scarlet robe sent a ripple down the hall. A small group of fans jogged toward him. Heads popped out of other hospitals room.
He smiled and waved to fans, patients and staff as he went. But he said little.
"Fine, how're y'all: he responded to one young woman who said she'd traveled all the way from St. Louis, Mo., Friday to try and see him.
He and the blonde, who one fan said was Linda Thompson, an old girlfriend, could be heard laughing behind the closed security room door. Moments later, he strode back across the hall with more smiles and waves.
Still later, two long-haired Presley aides wheeled a hospital cart loaded with stereo equipment into his room and another walked down the hall to get some ice.
The superstar - a teen-age idol in the 1950s as much for his swivel-hipped body movements as for his singing - canceled a planned two-week engagement in Las Vegas after three days.
He flew home to Memphis Thursday, accompanied by Dr. George Nichopoulos, to enter the hospital.
"The primary problem at this point is fatigue," Nichopoulos said yesterday in a statement released by hospital officials. "We want to have him in the hospital for 10 days to two weeks so we can control his environment - particularly his diet and his rest."
"We also intend to perform a number of tests to see if there is a medical problem contributing to the fatigue," the specialist in internal medicine said.
Presley reportedly has been on several crash diets in an attempt to whittle down an expanding waistline.
<< Back to the timeline >>
Columnist Ralph Pearl
Las Vegas Sun
Dec. 3, 1976
You've either got to be an Elvis Presley or a Neil Diamond or be related money-wise to the Rockfellers to turn down a $1,000,000 for one night's work. In this particular case Elvis Presley turned down that kind of money from a promoter in Paris who wanted Elvis for that one night. Presley turned it down by explaining that "I wouldn't be understood singing before a mostly foreign audience." We know at least a dozen singers who would not only sing before a foreign audience, but do it nude while standing on their head for that kind of loot. True, the Parisian promoter would put Elvis in an auditorium seating 50,000 and also wrap up all the international TV rights in order to get back his million plus.
Columnist Joe Delaney
Las Vegas Sun
Dec. 5, 1976
An hour was really too much time in front, but in fairness, the original time table called for 40-45 minutes...Presley fans, their appetites whetted by the delay, let out a roar as Elvis made his entrance at 10:07...They were still roaring and calling for more at 11:47 when the curtain descended.
If there are any doubts that Elvis is the all-time crowd count champion in Las Vegas, this Hilton engagement, sold out months in advance, should dispel them...The hotel is "SRO" (Standing Room Only) for the entire 11 day, 15 concert engagement...Elvis alone is a convention equivalent in Las Vegas.
His recorded repertoire is so vast he could easily have done twice the time and still not filled all the requests... His most recent recording, "Hurt," was accorded a standing ovation and the encore in its entirety was accorded another...He is still a little heavier than he should be but not as heavy as on his previous visit...The capacity crowd could care less about this.
Columnist Ralph Pearl
Las Vegas Sun
Dec. 8, 1976
London producer John Daly is in town and determined to make a deal for the appearance of Elvis Presley for the first time in the United Kingdom. Fully aware that many of his colleagues in England have tried unsuccessfully for years to book Elvis into their country, Daly is prepared to offer Elvis a deal he simply won't be able to refuse. Obviously he doesn't know Elvis has crafty manager, Colonel Tom Parker. They've been turning down London offers for years. Anyway, Daly wants to put Elvis into London's Wembley stadium, which seats 100,000, also put in closed circuit TV so Elvis can be beamed to the rest of England and Scotland. Maybe Daly'll get lucky. Frankly we've never understood why Elvis continues to pass up England.
Columnist Joe Delaney
Las Vegas Sun
Dec. 10, 1976
There is only one Elvis Presley; Frank Sinatra has had to recognize some limitations, minimum price-wise, and so has Sammy Davis, Jr....Dino fills the 1,200 seat MGM Grand Celebrity Room twice a night but only one week at a time...
Comparisons will be difficult here because it is Dec. 10 and once Elvis closes this Sunday at the Hilton, the town will be quiet through Christmas Day.
<< Back to the timeline >>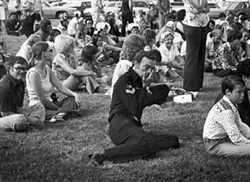 Las Vegas Sun
Las Vegas residents gather at a memorial service for Elvis Presley on Aug. 18, 1977.
LV adorers pay tribute to Elvis
By Harold Hyman
Las Vegas Sun
Aug. 19, 1977
With inconsolable grief about 150 women and a smattering of men and young boys held a prayer service for Elvis Presley Thursday on the lawn of the Las Vegas mortuary. It was their way of saying goodbye.
The 4 p.m. ceremonial, featuring the music of Elvis on large stereo speakers, attracted no Strip celebrities with the singular exception of Sonny King, who eulogized the Elvis he had known for 14 years. King lashed out at reports published after Presley's death which allege the singer used drugs to maintain the momentum of his life.
"He didn't take dope. His dope was you, the people. You were his narcotic," King whispered into the microphone and looked imploringly at the crying faces before him.
The women ranged from middle-aged to young teens. Some wore black.
Most sat on the grass but others stood. Between King's eulogy and a prayer by a non-denominational chaplain, they listened to Elvis on record.
It seemed each could feel their common binding sorrow, making it unnecessary to speak, to tell each other how they would miss him.
Silently, some mouthed the words of Elvis' songs as the stereo played them.
"Women wanted to make love to him and at the same time they just wanted to put their arms around him ad shield him from the troubles of the world," sighed Stephanie Myers, a dancer with Nevada Dance Theatre.
Was that how she personally felt? She replied yes.
"I've been in love with him since I was nine." She added that if there was a man anywhere who could move her to leave her husband it was Elvis.
Myers was the spearhead of the almost impromptu service. She explained on Tuesday when Elvis died, she drove up and down the Strip, hoping to see some expression or recognition of the tragedy from the hotels or stage performers.
Realizing at last that there would be none, she turned to three hours of frantic telephoning Thursday morning to arrange the last-minute prayer service.
Among her calls were several to broadcast news media whose special spot announcements brought forth the mourners.
As the records played on, the stereo equipment malfunctioned causing the distinct Elvis sound to warp and slow down.
"Why did he have to go? Why?" a young girl sobbed as she turned to leave.
The Las Vegas service coincided with hundreds of others organized in much of the same way throughout the U.S. and Western Europe.
<< Back to the timeline >>