Heard about us on radio or TV?
Lunar New Year in Vegas in 2019
The Big Game and Valentine's Day aren't the only parties happening in Vegas this February. Every year we like to throw a party for Lunar New Year. Don't be surprised to see parade-like lion dances winding their way through casinos. Restaurants will be offering special meals to celebrate, and you'll see beautiful displays of flowers at the Bellagio Conservatory and Venetian - Palazzo Atrium. Many hotels put up decorations and symbols of luck throughout their properties. Who couldn't use a little more of that when they're in Vegas? Each year is a new celebration and this year is no different.
Lunar New Year Events
Lunar New Year Events 2018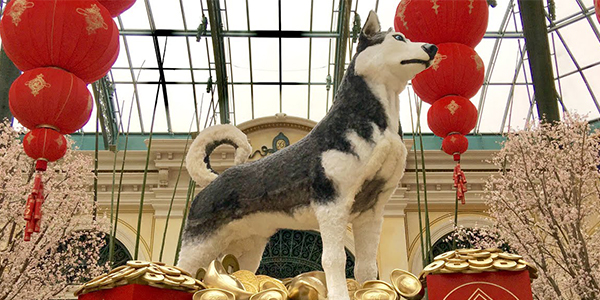 Bellagio Conservatory & Botanical Gardens
This is the Year of the Dog. Naturally, no celebration would be complete without one. The Bellagio Conservatory & Botanical Gardens goes all one-upper and has built an 18-foot Siberian Husky to be the centerpiece of their 14,000 sqft floral garden. Yeah, that'll get your attention. As with anything Bellagio does, the beauty is in the detail. Be on the lookout for hidden gold coins, ding pots and lanterns throughout. The Chinese New Year display will be available for exploration through March 3, 2018 so be sure to check it out before the horticulture wizards at The Bellagio transform the space into their spring display.

 
Traditional Fan Dance at Grand Canal Shoppes inside The Venetian
Get ready to dance your fans off (and hopefully be rewarded for it). On February 16 at 4:00 p.m., dancers will fill the Atrium above the waterfall and perform a rendition of the ancient dance. Even better, during and after the performance, more than 250 red envelopes will be passed out to guests. Hold on to these bad boys because they'll be filled with prizes. Good prizes (gift cards, retail and dinning incentives), and not that dollar store stuff your mom put in goodie bags during your childhood birthday parties. And how could we not mention the 16-foot-tall Elephant in the room? Well, technically it's a Shar-Pei. It took a team of 86 artisans 10 months to create this floral installation. Seeing this pup up-close is reason enough to check out the Fan Dance.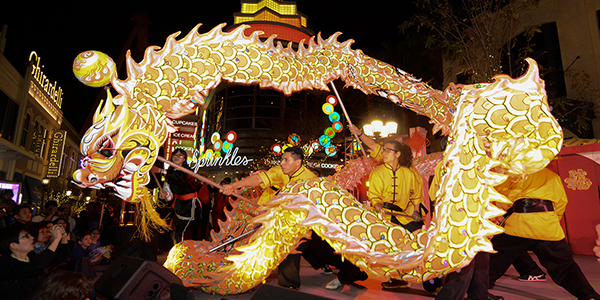 Four-Day Chinese New Year Party at The LINQ Promenade
Talk about going on a bender. That's basically what's happening at The LINQ with their four-day extravaganza. Starting Friday, February 16 and running through Monday, February 19, guests can expect live music, prize drawings, food and drink specials and more. And since we're suckers for presentation, we're especially excited about The Promenade being dressed up with lanterns and decorations. And the nightly performances? Something tells us there's going to be ridiculously talented acrobats, breathtaking props and a dog or two. And if you want to catch the action from high above, the High Roller and its 55-story view will feature a gorgeous red and gold coloration to commemorate the festivities.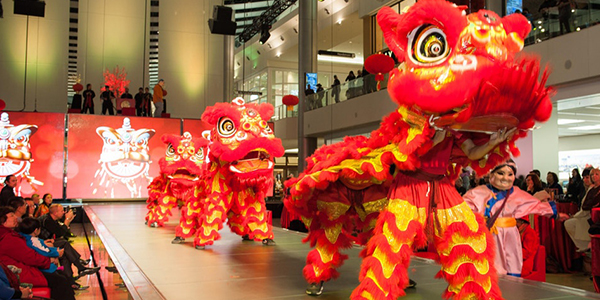 CNY in the Desert at Fashion Show Mall
Pack your bags and get ready to go on a journey to China. Ok, maybe you don't have to start digging out your suitcase now, but CNY in the Desert is pretty legit. From February 16-17, there will be cultural performances, a live authentic dragon dance and eye painting! Department stores at the mall are even going to "feed" the dragon red envelops to bring good luck for the year. But if you get a rumbling to be fed, there'll be a cool, on-site, family-style dinner where you can get down on grub and cocktails. It'll cost ya though.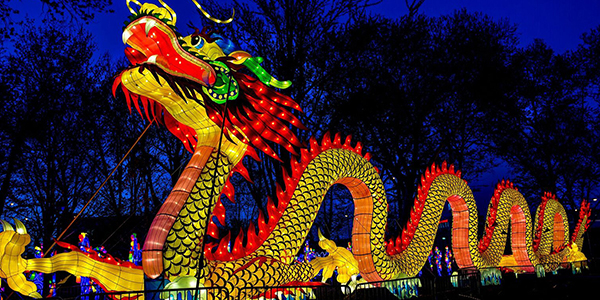 China Lights Lantern Festival at Craig Ranch Regional Park
Hundreds of larger-than-life lanterns and symbols, cultural performances AND crafts?! Where do we sign up? Open nightly from 5:30 p.m. - 10 p.m. at Craig Ranch Regional Park through February 16, the Lantern Festival is all about enjoying the spirit of the holiday. There'll be food and drinks on-site, but remember to bring a jacket. It's chilly outside and you're going to want to see all of the lanterns after dark. Trust us.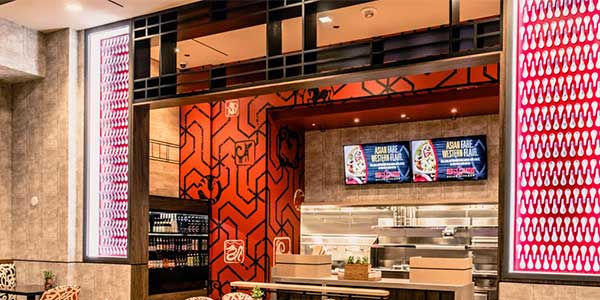 Red Lotus Asian Kitchen at Tropicana
Everyone talks about how Chinese New Year brings luck to individuals. We've been around the block a few times, and we are wondering when this luck comes into play? Like, is there any chance we can cash it in early? If so, we choose this year. With the grand opening of Red Lotus Asian Kitchen inside the Tropicana, the casino will be hosting two Baccarat specials along with a traditional lion dance. The first Baccarat offering is going on the whole month of February, and there will be a total of eight winners. Those lucky eight will win promo chips ranging from $500 to $2,500. The second one will be a $108,000 tournament that takes place on February 15 to 18. And while all that is going on, the lions will hit the casino floor on Saturday, February 17 at 6 p.m. All we have to say is, are you feeling lucky?